I thought I would share this scroll. It was a bit of a departure for me in terms of style. I knew about the assignment for a while but I could not come up with a design I liked and I spent quite litteraly hours going through pretty much every single one of my books to find inspiration. While it took hours to find when inspiration did hitthe process went fairly fast, in total about 3-4 days at around 6ish hours each day. ( give or take...tea breaks house work and other stuff I was working on in and around paint drying , hand uncramping and back straightening breaks)
I found an image from the Hours of Mary of Burgundy, C.1477 - Flemish. from the book
Medieval Pagent
by Bryan Holme
Mary of Burgundy
I took inspiration from the image rather than copy it because I wanted to really personalise the scroll. Judith has a Burgundian persona and is often seen skipping down the hallyways in very lovely long dresses, she teaches dance with the same enthusiasm my husband eats chocloate and always seems to be very cheery. I thought the image suited her persona and personality well.
I removed the massive miniature of the Virgin mary and used that a space for my text. I also took the top left hand glass pane away and replaced that with a stained glass image swiped from an utterly different manuscript image of dancing in a garden. I took the dancers in the foreground and used them as models for the glass image.
Dancing in the Garden of Love
- Guillaume de Loris and Jean de meun from
Le Roman de la Rose
C. 1490-1500 Flanders
dancing in the garden of love
Judith teaches medieval dance so I wanted the connection to that in the image. I was really happy with how that turned out.
What I would do differently next time is more text in the text box and better capital letters as well. I wasn't overly happy with how they turned out. I did like how the main image turned out though.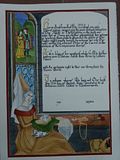 The book she is holding actually has text in it and says... Bridget me fecit in bedano on a very wet day with Thunder and lightening ( the black splodge is my signature crow) and I miss spelt my own name forgetting the g....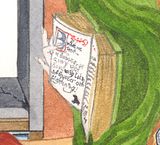 I often do this, add tiny almost unreadable to any one but me or someone with a magnifying glass texts. It's like little secrets and it's fun!